Shown above our beautiful hand carved Palm Tree Large Surfboard Display Racks
PLEASE GO DIRECTLY TO OUR "ALL PRODUCTS" PAGE IN THE MENU ON THE LEFT TO PLACE YOUR ORDER QUICKLY
Note! Our Giant specialty racks are made for Heavier Vintage or Modern Boards such as: Stand-up Paddleboards and larger or heavier Vintage Surfboards with Thicker Rails.. These Giant racks are much larger versions of our beautiful Large and Small Hand Carved Surfboard Display Racks.
Please scroll ON THIS MENUE PAGE and listen to or purchase great Hawaiian Music by Jon Cruz while you shop, this entire CD is fantastic and can be shipped with your order.
Once again, ALOHA And Welcome.
Please Check out and purchase our new Large and Small decorative surfboard wall display racks in our all products section.

Featured product for May, 2018 Our newest arrivals the: Small KU' Standing Tiki Surfboard display wall racks.
COMING ALSO IN MAY OF 2018 UKULELE WALL HOLDERS:
KU' TIKI - PALM TREE - PINEAPPLE DESIGNS
AND JUST IN:
"Now Available" Our beautiful KU' TIKI DESK LAMP May 2018
Order in all Products section! A perfect match to our Ku'Tiki Surfboard Racks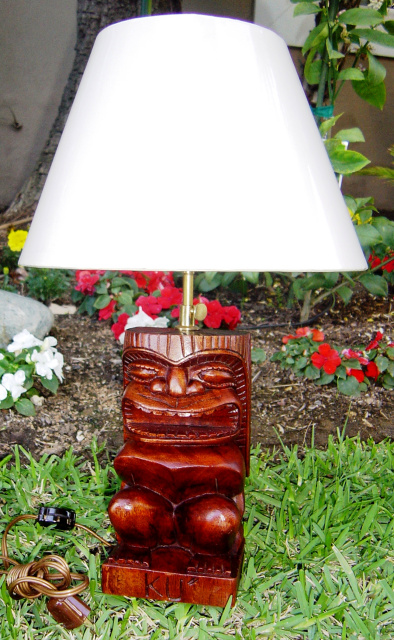 and check out our Small Bucktooth Tiki Surfboard display wall racks. Great for kids rooms, in the office close to the wall with no fin or fin out or used as window curtain rod holders.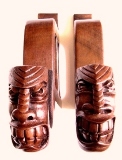 Also check out our new: "Hand Made" Mahogany
"Pineapple Round Candle" Holders.
Our Surfboard display racks are available in Four hand made designs:
Palm Tree, Bucktooth Tiki, KU' Standing Tiki, and Pineapple beautifuly designed to display your surfboards in style.
NOTE! PLEASE GO TO : "ALL PRODUCTS" ON OUR HOME PAGE TO VIEW AND ORDER OUR NEW: "TIKI" SURFBOARD DISPLAY RACKS, MAHALO
Now available: "Giant" Palm Tree and Tiki display racks for very heavy or Vintage Longboard, Stand-Up Board or Paddleboard. These racks are truly Statement Racks suitable for Home, Restaurant, Hotel Lobby etc., and are now available in our "All Products" section in limited supply.